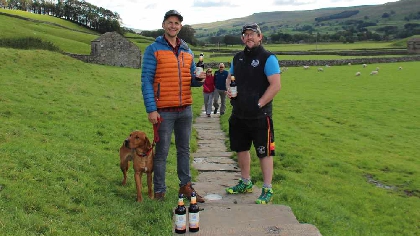 Bolt the dog, Stu Taylor and James Law, with ramblers approaching, on the Pennine Way
The Kirkby Lonsdale Brewery donated £6,350 to help the repair the Pennine Way at Hardraw
Kirkby Lonsdale Brewery staff Stu Taylor and James Law walked a popular section of the Pennine Way in Wensleydale last week, raising a bottle to the volunteers and rangers who repaired the path in the summer.
The brewery donated £6,350 to the repair project, having held back ten pence from every bottle or pint sold of one of their ales, the Pennine Ambler. The amber beer is aimed at thirsty long-distance walkers.
Reclaimed stone flags, sourced from Lancashire and West Yorkshire, were laid along 115-metres of the Way near the village of Hardraw, where existing flags had become uneven or broken. For three days Dales Volunteers Dick Laidler and Richard Humphries marshalled a digger, operated by an access ranger, and used spades and bars to make sure the flags were laid level.
Stu Taylor from Kirkby Lonsdale Brewery said: "We use the Pennine Way trail ourselves, and are lovers of the outdoors – so it's good to be able to give something back."
Pennine National Trails Partnership Manager, Jo McAllister, who brings together more than a dozen local authority and other partners to maintain the 267-mile National Trail, said: "The Pennine Way takes a lot of looking after and we couldn't do it without the help of volunteers as well as supporters such as Kirkby Lonsdale Brewery. The assistance provided by the landowner and tenant farmer in storing and transporting the stone flags was also much appreciated. She added: "If you want a challenging and spectacular walk on well-maintained paths, followed by a fine pint at a local pub, then look no further than the Pennine Way."
Last year, 258 days of volunteer time were given to maintaining the Pennine Way, most of them in the North Pennines AONB, the Peak District or the Yorkshire Dales