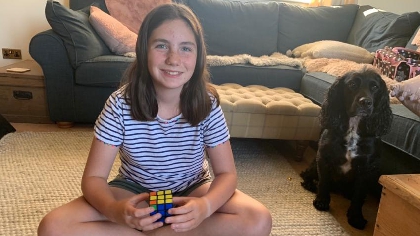 Dales girl's fundraiser for Ingleton Judo Club
Ever been frustrated by the classic 80s puzzle the Rubic's Cube? Kitty Brennand from Rathmell has not only solved the frustrating puzzle, but has set herself a challenge with the cube to raise money for the sport she loves.
Kitty says: I'm raising money for Craven Judo Academy's new dojo in Ingleton. Judo's my passion and it will be a dream come true to have our own dojo. I've recently taught myself how to solve a Rubik's Cube and I've set myself a fundraising challenge. I'm going to solve 100 Rubik's Cube, one after another, as quickly as I can."
The challenge will take place on Saturday September 12th and I'll have three helpers - two to mix up the Rubik's Cubes and one to keep count. We're hoping to go live on Facebook for some of the challenge.
Kitty is looking forward to the challenge: "I've set a target to raise £150 for Craven Judo Academy's new dojo and would love your help to reach this total. Thanks so much!"
You can donate at https://www.crowdfunder.co.uk/kittys-100-rubix-cube-challenge