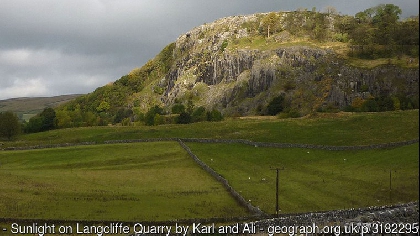 The project to develop Lancliffe Quarry near Settle into a business park has been given approval.
Craven District Council's plans to transform the Council's former waste depot site at Langcliffe Quarry into a purpose-built rural enterprise centre have been approved. The Yorkshire Dales National Park's planning committee agreed the scheme could go ahead at its August meeting.
The new development would create over 26,000 square feet of new business space, refurbishing the old traditional stone buildings into modern office space, with shared facilities including a training or meeting room, and space for hot-desking. The York and North Yorkshire Local Enterprise Partnership has approved Local Growth Funding of £1,645,708 to support the costs of the development.
It is expected that the new development will support around 30 full-time equivalent jobs. The scheme will also support preservation of the historic Hoffman Kiln through a long-term conservation management plan. The Joint Venture company, Craven Barnfield, will act as developer in bringing forward the scheme. The Joint Venture is a partnership between Craven District Council and Barnfield Investment Properties Limited. When completed, the site will be retained and managed by the Council.
Councillor Simon Myers, Craven District Council's Lead Member for Enterprising Craven, said: "I'm delighted that these plans have been approved. This scheme will help provide much-needed additional workspace in the district. We know there is a strong demand for more modern, flexible workspace for new and existing smaller businesses in Craven. Part of the scheme would also include business support services, together with casual access to meeting space and office facilities without the cost burden of fixed rent costs. This will be particularly useful for small and new businesses, where they are not in a financial position to occupy their own office full time.
"We know businesses need access to supportive networks, mentoring and support to develop new ideas. This project will support local businesses to grow in the longer term, beyond levels of pre-coronavirus. This site has proved difficult to develop, but the provision of grant funding provides a unique opportunity for a brownfield site that is not regarded as commercially viable to be developed as an employment hub."
Councillor David Staveley, ward member for Settle, said: "The Langcliffe Hoffman Kiln site has a long standing history of employment. As such it has proved a challenging site to continue that commercial focus, while protecting the heritage asset. What we have now addresses the needs of our evolving local economy, yet provides the foundation for the future protection of the Hoffman Kiln visitor attraction. A win for future generations in every respect. It is a credit to the hard work of both CDC and YDNPA officers and members, that has brought forward such an attractive scheme to a sensitive setting."
Councillor Wendy Hull, ward member for Settle, said: "Local businesses expressed real and positive interest in this scheme at an early preview event here in Settle and it is even rumoured that offers were made on the night, such was the enthusiasm for this much needed and attractive redevelopment. "The scheme promises to bring high value and new technology jobs into the area, thereby encouraging younger people to stay local."
Tim Webber, Chairman of Barnfield Group, said: "We have worked closely with the Council, planners and Historic England to bring forward an exceptional development proposal that will underscore economic activity in the National Park. "Balancing all of the sensitivities of the site including the Hoffman Kiln, which is a Grade II Scheduled Monument, the development will offer flexible and purpose built light industrial accommodation in an area of outstanding beauty. We very much look forward to this being the first of many exciting developments by the Joint Venture across the Craven District."
The York & North Yorkshire Local Enterprise Partnership approved Local Growth Funding for the project earlier this year. David Dickson, Chair of the their Infrastructure and Joint Assets Board, said: "Among our aims for local investment is to help unlock employment sites which will create successful and distinctive places. There was a good case for funding here to help establish a business support facility currently lacking. It has the potential to deliver strong economic benefits to the area."