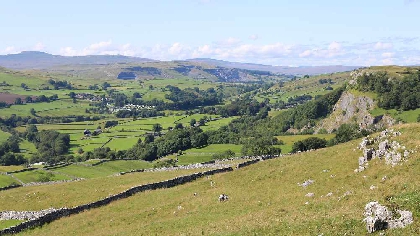 Ribblesdale, view northwards from near Winskill Stones
A comprehensive and updated source of information about the landscapes of the Yorkshire Dales National Park is now available.
The 'Landscape Character Assessment 2020' includes an overview report illustrated with new maps and photos, together with detailed descriptions of 19 distinctive landscape character areas in the National Park.
An interactive map on the National Park Authority's website gives quick and easy access to much of the information.
The new Landscape Character Assessment builds on an original 2002 study, including by looking at the areas of Cumbria and Lancashire which became part of the National Park in 2016.
Completing it was one of the objectives set by a partnership of local organisations and businesses in the Yorkshire Dales National Park Management Plan 2019-24.
Member Champion for Cultural Heritage at the Yorkshire Dales National Park Authority, Julie Martin, said: "The landscapes of the National Park are always evolving, and will continue to do so. They are changing as farming practices change and as other land uses, such as recreation, commercial forestry and quarrying, shrink or expand. Other landscape changes may result from renewable energy generation, communications infrastructure, housing, economic development and the effects of ash dieback.
"The interactive map will enable farmers, landowners and developers to access information that will help them to manage change positively, whether that be securing planning permission for new development or funding for environmental land management that enhances the special elements of the National Park's landscapes.
"The assessment will also be of interest to people looking to better understand the National Park area. There are many maps and photos to enjoy. The mapping shows, for instance, the most significant areas of outstanding classic limestone scenery, glacial and post-glacial landforms, flower-rich hay meadows and pastures, deciduous woodlands, traditional stone-built field barns, early field systems and early industrial remains such as former lead mines.
"As the assessment says, evidence of human activities in this area has survived from the earliest periods onwards, creating an 'overwhelming sense of continuity with the past'. As ever when it comes to the Yorkshire Dales National Park, there is so much to discover."
The Landscape Character Assessment was prepared by consultants Sheils Flynn and can be viewed at:
www.yorkshiredales.org.uk/about/landscape/landscape-character-assessment/