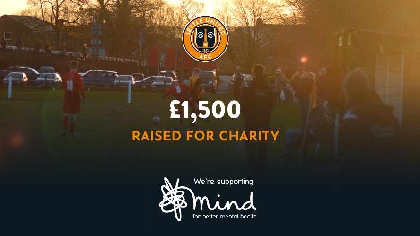 SUAFC Donate £1,500 To MIND
A Christmas raffle has raised much-needed money for mental health charity MIND. Settle United AFC raised £1,500 by running a raffle on the run up to Christmas.
Three hamper prizes were available to win, worth an astonishing £3,555, which saw volunteers sell over 900 tickets in just 4 weeks in the run up to the festive season.
And it's not only the charity which will benefit. Local lad Ryan Glynn was announced as the winner of the main prize, worth £2,790, live on Facebook.
Ryan said: "I was out in the car at the time and I actually pulled over to watch the winners get announced. I couldn't believe it when I heard my name and this made my Christmas one to remember. Thank you to Settle United AFC and to everyone who entered to raise a fantastic amount of money for such important causes."
The hampers were made up of donations from a wide variety of local businesses in Settle and in such difficult times for the town's retail and hospitality sector this was a brilliant act of kindness by so many independent businesses.
Former Premier League and TV star Jimmy Bullard supported the club with a short video promoting the raffle on the club's social media channels and the winners were announced just ahead of the big day.
The club's head of marketing, James Hamer, who organised the fundraising activity said: "Mental health is such an important topic and even more so for young men, who are the biggest group of people to commit suicide. We're over the moon to have raised so much money for MIND and to have helped get rid of some of the stigma of talking about not being okay at the same time.
"The support we had from the business community in the area to help us compile the prizes has been incredible. We are lucky that businesses support the club throughout the year and it's great that we've been able to convert some of that support into much-needed funds for charity too.
"We have lots of exciting plans to grow a successful football club in our community and it's a great time to be a part of a club that has over 50 men signed on to play with us."
Settle United strives to be a positive part of the community and has also donated club merchandise to Settle Swimming Pool to help them continue to fund this vital community facility in the town.
MIND provides advice and support to empower anyone experiencing a mental health problem. They campaign to improve services, raise awareness and promote understanding. For more information on the charity, visit www.mind.org.uk or call their helpline on 0330 123 3393.
Established in 1884, Settle United AFC is an amateur football club playing games in the Craven District Football League at its home ground, Bridge End.