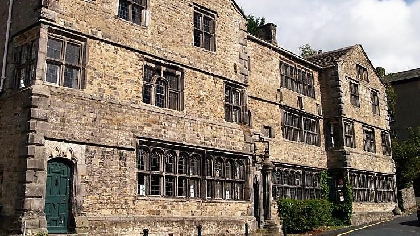 The Folly in Settle is preparing to open its doors to the public next week for the first time since lock down.
Staff and volunteers are busy getting the Museum and Coffee House ready to welcome visitors. The newly-decorated Coffee House reopens from 10am on Monday 3 August and the Museum of North Craven Life will be open on 4 August and then every day except Monday from 11am to 4pm.
Chair of the Board, Heather Lane, said, 'We hope that as many people as possible will pop in and support us by treating themselves to coffee and cake. On Mondays, Tuesdays and Wednesdays in August, food with drinks will be half price, thanks to the government Eat Out to Help Out scheme. Every penny of the Coffee House profit goes towards the charity's work and helps us to maintain The Folly. This is absolutely vital now, as the roof has sprung a leak and every time it rains we find water pouring through our ceilings! We have really missed seeing our regular visitors, and although it's been good to keep in touch via Facebook and Twitter, it will be great to see everyone in person. We're opening up the Parlour as an extra café space, so social distancing won't be a problem, and our brilliant volunteers have been hard at work making our hidden garden a really lovely area to sit and enjoy a drink and a snack. I have been hugely impressed by the efforts of the whole team to make sure that everything is ready on time.'
With 'Good to Go' certification already achieved and a new one-way system through the Museum, the team at The Folly have done everything possible to make visiting safe and enjoyable. Heritage Development Officer, Caitlin Greenwood said, 'We will ask museum visitors to wear a mask and use hand sanitiser on arrival and as they make their way around the displays. Masks will also be needed by anyone ordering takeaway food and drink, but not if you sit in the Coffee House or Parlour. We're also introducing a reduced admission rate if you have a BD24 postcode and don't forget that children under 16 an NHS staff and carers always get in free.
Anyone who has enjoyed volunteering during the crisis and is looking for ways to continue to help is welcome to get in touch about opportunities to help at The Folly by emailing hdo@ncbpt.org.uk.'
As a reminder, The Folly has an emergency crowdfunding appeal https://www.crowdfunder.co.uk/folly-emergency running until the 30th of July, where anyone wish to support the charity can make a donation or buy a voucher for the Coffee House that can be redeemed at any point in the next year.