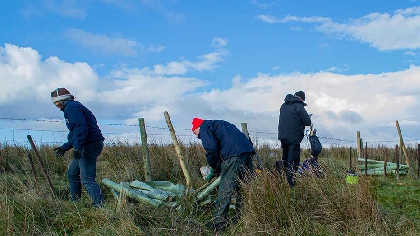 Yorkshire Dales Millennium Trust (YDMT) needs your vote to create plastic free woodlands in the Yorkshire Dales.
A project to remove redundant tree guards and plant more than 7,000 trees to trial alternatives has been shortlisted by the European Outdoor Conservation Association (EOCA) to receive funding. Each year EOCA runs two funding rounds in which supporters of the association, its members and the public vote to choose which project wins financial support. Projects have been divided into three categories 'Land', 'Marine' and 'Freshwater' and all deal with the common issues of single-use plastic.
YDMT's project will tackle the issue of plastic in our woodlands and call for a different approach in planting woodland.
David Sharrod, Chief Executive, said: "Three billion trees must be planted by 2050 to counteract Britain's contribution to climate change. We know plastic guards protect saplings from damage, but we do not want three billion plastic tubes littering our environment and damaging ecosystems. It's time for change. We want to plant plastic free trees and return woodlands to their natural state. We will remove and recycle redundant plastic tubes and find a solution to plastic in our woodlands. We urge everyone who wants to create plastic free woodlands in the Dales and surrounding areas to vote for this project. It will not only benefit the local environment, but nationally lead the debate on plastic usage."
YDMT wants to engage communities and volunteers in tackling the plastic problem and seek sustainable a solution through sector-wide collaboration, disseminating conclusions and recommendations nationally. Plastic guards are critical to enabling young trees to survive and thrive – acting as mini greenhouses and providing protection from browsing animals, weeds and herbicides until the tree is fully established.
But following many decades of tree planting up and down the UK, there are now millions of plastic tree tubes littering the landscapes, most of which are made from single-use plastic. These disintegrate into smaller fragments and find their way into the soils and waterways. With UK Government commitments to plant an extra 30 million trees a year, this problem will only get worse over time. There are biodegradable alternatives to the plastic tree guard, but none yet that are financially viable, compostable and can effectively protect saplings for the required amount of time.
David added: "We're leading the debate nationally on the use of plastic in woodlands – and winning this funding would allow us to put practical work into action. We have supported the planting of 1.5 million trees since 1996 and this project would help us to completely transform how the next 1.5 million are planted."
To vote, click here.
The deadline is 22nd October at 12 noon.