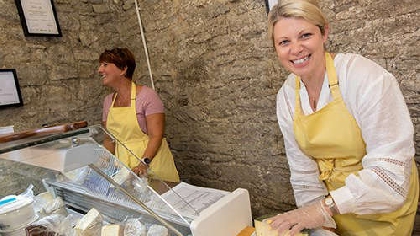 A brand-new artisan cheesemonger in Richmond can look to expand the business thanks to a District Council grant.
Amber Lee runs The Cheese Press in Victoria Road selling mainly Yorkshire cheeses complimented by local pickles and preserves.
But to expand her products and to look to move into the hospitality and holiday let market – as well as cheese tasting sessions - she needed more fridges so has used the £1,000 from the Council's Small Business Grant to do just that.
"As a start-up business in March 2022, the enthusiasm from locals and visitors alike has simply taken us back. With positivity through direct customer feedback, social media and word of mouth, we quickly realised our original investment simply could not support the demand for our products," said Amber.
"The grant has been instrumental in bridging the gap to where we are today. Adding a second over the counter display unit allowed us to expand our products and guarantee the quality of our current range of over 50 cheeses."
The Small Business Grant scheme offers up to £1,000 to small businesses under 36 months old to help start and grow. The fund can be used towards the purchase of equipment, marketing costs and adaptation to premises.
For further details on how to apply visit our funding for businesses page.