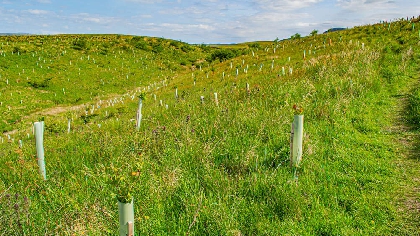 A new partnership between Leeds Building Society and Yorkshire Dales Millennium Trust (YDMT) aims to dedicate one thousand new broadleaf trees in the Yorkshire Dales to young people.
Leeds Building Society will dedicate a newly planted tree for every child's savings account opened in one of its branches. The promotion runs until November with the young trees planted at Bargh Wood near Stainforth. This beautiful native broadleaf woodland on the Ribble Way has sweeping views towards Pen-y-Ghent in one direction, and Pendle Hill in the other.
The trees will grow to form an important habitat for wildlife in this exposed area as well as helping to create a resilient woodland that can help mitigate the impacts of climate change. Youngsters who have a tree dedicated to them will be able to visit the woodland and see it grow alongside their savings.
The collaboration also hopes to inspire more families to connect with nature and help them understand the importance of planting trees to reduce our impact on the environment, as well as enjoying these natural spaces for health and wellbeing.
Michael Devlin, Deputy Chief Executive at YDMT, said: "We are thrilled to be working with Leeds Building Society on this special campaign. To be able to inspire families about the vital need to create new woodlands in Yorkshire by opening a children's savings account is a fantastic opportunity, not only helping to plant much-needed trees but also sparking a lifelong connection and passion for the environment in young people."
Matt Bartle, Director of Products at Leeds Building Society, added: "We know how we do business is as important to our members as it is to us and we're proud to be making progress against the challenging targets we've set ourselves to reduce the Society's carbon footprint.
"Our new partnership with YDMT is our first initiative to demonstrate this green commitment through linking our products with positive environmental action and helping to grow this beautiful native woodland will be a wonderful legacy for our young savers."