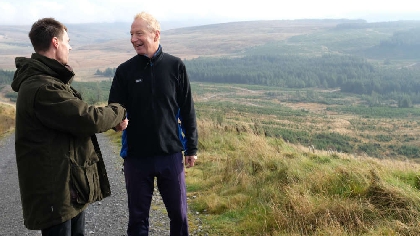 Dylan Cammack and Nick Cotton on one of the new public bridleways into Cam and Greenfield Woodlands
Extensive public rights of way have been created in the largest area of woodland in the Yorkshire Dales National Park.
New bridleways of nearly 12 kilometres (7 miles) in length, as well as footpaths of nearly 700 metres (half a mile), now exist at High and Low Greenfield in Langstrothdale and the adjacent Cam Woodlands.
The conifer woodlands are in the geographical centre of the Yorkshire Dales National Park and were once a subject of local and national debate (see 'history box-out' below).
They are currently managed by the forest management company, Tihill, on behalf of Gresham House Timberland LP which has welcomed and supported the new public access.
The new bridleway and footpaths are the longest lengths of public rights of way to be created in the Yorkshire Dales National Park since 2010, when 12km of new bridleways were created as part of the Pennine Bridleway National Trail.
The new bridleways in fact link directly to the Pennine Bridleway, providing a loop for riders that weaves a way through plantations covering 1,258 hectares.
Dylan Cammack, Senior Forest Manager, Tilhill, said: "The new access at Greenfield will allow people to enjoy this woodland, allowing them to appreciate and learn about sustainably managed productive forestry within the National Park, and at the same enjoy the health benefits associated with being outdoors."
Member Champion for Recreation Management at the Yorkshire Dales National Park Authority, Nick Cotton, said: "Any new public rights of way creation in the Yorkshire Dales National Park is a cause for celebration. In this case it's especially significant because of the scale of these new bridleways and the interesting history of the land use change from farming to forestry.
"Some people might turn up their noses at access through a vast conifer plantation. If they did, they would be missing out on the red squirrels, the star lit dark skies and the opportunity for some of the freshest air in the country. It's great news that Greenfield Forest and Cam Woodlands has become yet another place to discover on foot, bike or horse in the Yorkshire Dales National Park."
The new rights of way were created following the signing of a deed of dedication on 31 March 2017. The signatories were the then owners of Greenfield Forest and Cam Woodlands and the Yorkshire Dales National Park Authority.
Work on the routes was completed earlier this year and a public notice was published on 4 August 2022 in the local press.