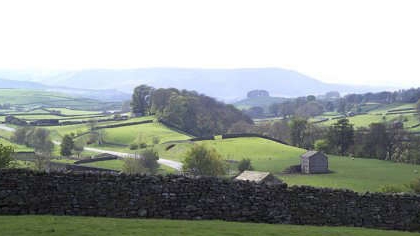 The owners of second homes are set to have to pay a premium on their properties in North Yorkshire amid ambitious plans to tackle the affordable housing crisis which is blighting communities across the county.
A landmark decision today (Tuesday, 20 September) by senior councillors is due to see a 100 per cent premium introduced for council tax bills on second homes within the next two years.
The council's executive has unanimously backed the plans, which would effectively double council tax bills for second home owners, and the proposals will now be considered at a full council meeting.
If agreed by the full council during the meeting in November, the new scheme will mean that North Yorkshire is one of the first areas in the country to progress adopting the Government's new measures, which are ultimately aimed at bringing second homes back into use for local communities.
It is also expected that a decision to introduce the premium will provide a multi-million pound boost to finance key council priorities, including a central aim to use the funding to help introduce more housing in areas particularly affected by the affordability crisis.
Council leader, Cllr Carl Les, said decisive and radical action had to be taken to tackle the long-running issue of second home ownership in the county.
North Yorkshire has the highest number of second homes in the region, and concerns have been voiced that the trend is undermining the availability of housing for local communities as well as inflating property prices.
The independent North Yorkshire Rural Commission, which was established by the county council in the autumn of 2019 to look into a host of issues affecting countryside communities, highlighted the affordable housing crisis as among the greatest challenges to resolve.
Cllr Les said: "There is no simple solution to the issue of affordable housing, second homes and the impact they have on housing for local communities.
"But we recognise that bold and decisive action needs to be taken to deal with the affordable housing crisis in North Yorkshire, and that is why the executive has decided to pursue the policy of a council tax premium.
"It may not be popular with everyone, but that is not the key factor in this decision. We need to act to try and ensure more local people have access to housing in their own communities, and the premium on council tax bills for second homes will be a significant step towards achieving that.
"Second homes and the impact they can have on the availability of housing has been a long-running problem that has affected communities not just in North Yorkshire but across the country, and this was reinforced by the findings of the independent North Yorkshire Rural Commission."
Analysis has shown that the introduction of a 100 per cent premium on council tax bills for second homes in North Yorkshire could generate in excess of £14 million a year in additional revenue.
The Scarborough district has the potential to bring in almost half of that figure due to the large number of second homes in coastal towns such as Whitby, Scarborough and Filey.
The research has shown that Richmondshire could generate about £1.8 million through the second homes premium, while the Craven, Harrogate and Ryedale districts could each provide about £1.5 million in extra revenue. Hambleton could provide £1 million and the Selby district a further £260,000.
The premium is being considered under an over-arching policy for council tax premiums and discounts which is being introduced when a new local authority spanning the whole of North Yorkshire is launched on April 1 next year.
Concerns had, however, been raised by councillors that second home owners would be able to find loopholes in the scheme to avoid paying the council tax premium, such as by classing their properties as holiday lets which qualify under business rates instead. However, the county council's corporate director for strategic resources, Gary Fielding, said stringent monitoring of the scheme will help ensure that the council tax premium is paid.
From April next year, for instance, second home owners face having to prove that their properties were let for short periods up to a total of 70 days during the previous 12 months. This move is aimed at ensuring that properties are only allowed to transfer from council tax to business rates when they are genuinely being used for business purposes.
Another concern was raised that couples who own second homes may claim that they are living separately and are single occupants of each respective property.
However, officers at the new North Yorkshire Council will be able to check the circumstances giving rise to any discount or exemption claimed, including single person discounts. These circumstances can be verified against the information supplied to the council to claim the reduction, and financial penalties can be imposed if false information is provided.
Executive member for finance, Cllr Gareth Dadd, who is also the authority's deputy leader, said: "We know that there is an acute shortage of housing for local people in many communities in North Yorkshire, and this has been an issue that has long affected their opportunities to actually buy their own home.
"Places such as the Yorkshire Dales and the North York Moors as well as coastal towns such as Scarborough and Whitby are without question wonderful places to live.
"But with that comes the fact that these areas also see very high numbers of second homes, which affects the availability of housing for local people.
"The scheme to introduce the council tax premium will ideally see these second homes brought back into use for local people. But if not, then there will be a valuable new revenue stream created that will help fund council priorities, such as helping introduce more housing for local communities."
Our Executive has also backed proposals to maintain a zero per cent discount on second homes that is already applied by North Yorkshire's district and borough authorities.
The plans would introduce a zero per cent discount for properties that are unoccupied or undergoing major repairs or structural alterations. The proposals would also see the continuation of a sliding scale of council tax premiums from April next year on properties that have been left empty or unfurnished for between two and 10 years.
However, the 100 per cent council tax premiums on second homes would not be introduced until 1 April, 2024, if the Government's new proposals do become enshrined in law.
The Government published its Levelling Up and Regeneration Bill in May, and the proposed legislation includes more options for council tax premiums to be introduced on empty properties and second homes nationally. If the bill receives Royal Assent, the proposed changes would come into effect from 1 April, 2024. However, if the county council wishes to adopt changes outlined in the Bill, it is required to confirm its decision by a deadline of March 31 next year.
A lack of affordable housing across North Yorkshire has been a long-running issue, accentuated in many of the county's rural and coastal locations that are among the most desirable places to live in the country. House prices in the Yorkshire Dales, for instance, are about a third higher than the county's average. The average cost of a property in the Dales is nearly £400,000, while the weekly wage in North Yorkshire is just over £530.
There is a high demand for second homes, increasing the strain on an already limited housing stock. According to the National Housing Federation, there are 8,199 second homes in North Yorkshire - the highest number in the Yorkshire and Humber region.
The North Yorkshire Rural Commission called for the Government to revise the formula for designating affordable housing so that it reflects average income and not the market value of properties in an area.
Its final report also highlighted the need for reforms to allow North Yorkshire County Council to have the power to levy a charge on second homes to be used to finance affordable housing. Commissioners also stated that each parish in rural North Yorkshire should build five houses over a 10-year period, with 40 per cent of the new properties either classed as affordable housing or available for rental.