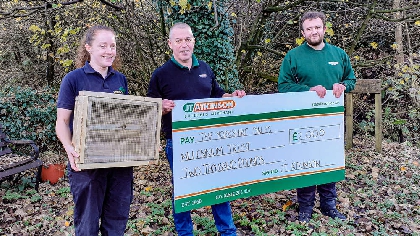 Donations made to Yorkshire Dales Millennium Trust's 'Seed to Sapling' campaign will be doubled during National Tree Week, helping the charity grow and plant more native broadleaf trees in Yorkshire.  
The '

Seed to Sapling'

campaign will launch on 28 November and for one week donations made through The Big Give website will be doubled, thanks to match funding from builders' merchant JT Atkinson & Sons and Timetastic.
Money raised will help ensure the right trees are available to plant in the Dales by creating community nurseries where native saplings will be grown from local provenance seed.
Funds raised will also support the development of a Woodland Trainee as part of Yorkshire Dales Millennium Trust's specialist woodland traineeship, as well as providing the tools, skills and materials for community groups to set up their own tree nurseries.
Long-term partner JT Atkinson are not only providing match-funding to support the campaign, but have also supplied materials for community groups to construct germination trays.
Jamie Atkinson, Managing Director at JT Atkinson & Sons, said: "We are delighted to be matching funds raised during National Tree Week again this year. We are committed to supporting this fantastic charity which aligns with our values to be more sustainable and to reduce our carbon footprint in addition to improving our local environment. This is the third year that we've been working with the Trust and it's great that we can get staff involved with planting native trees and building germination trays."
Gary Bury, CEO at Timetastic, said: "We're really pleased to partner with YDMT and be able to match funds being raised as part of this important campaign. The team at YDMT are doing exceptional work in the Yorkshire Dales, not only protecting nature but proving education for young people and engaging communities with their outreach projects."
Carol Douglas, YDMT's Woodland Development Manager added: "Planting trees is critical to help tackle climate change and nature loss, especially in the Yorkshire Dales where woodland cover is one of the lowest in England. However, there are several constraints to planting and it is becoming increasingly difficult to source a diverse range of trees species. The 'Seed to Sapling' campaign will address this by developing a network of local community growing schemes.
"The Forestry Sector is rapidly developing but there is currently a skills shortage making recruitment difficult. More needs to be done to attract young people into the industry and training is vital to provide the essential specific skills. The funding donated through our Seed to Sapling campaign will help to tackle this by supporting four trainees over the next three years. By donating on #GivingTuesday you can make a real difference to woodland cover in the Dales."
Donations to the campaign can be made on The Big Give website here https://tinyurl.com/seedtosapling from 28 November until 5 December.
Donations will be doubled until match funding runs out.