WIN a great Prize!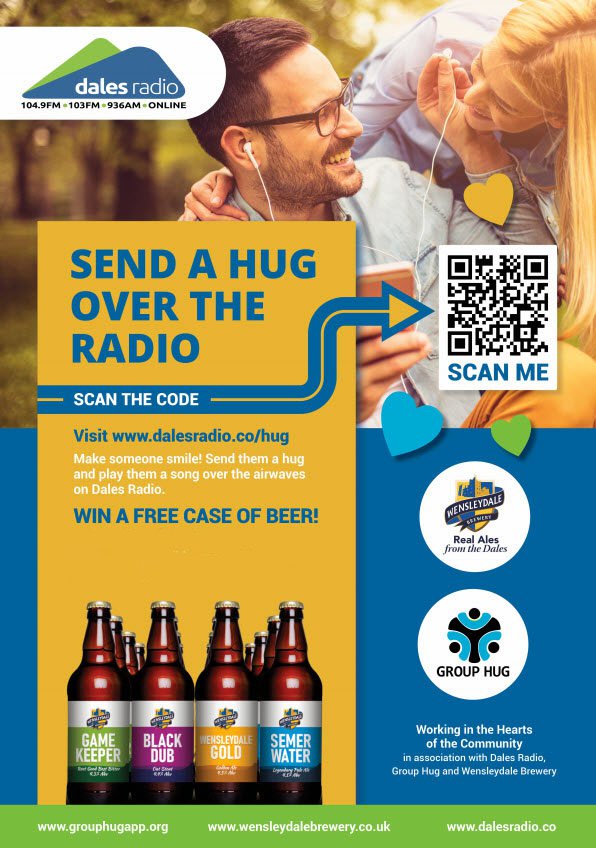 Click to hear the promotion >>>>
We've teamed up with those great guys at Group Hug and The Wensleydale Brewery to send a hug, a smile and some love to a person you care about over the airwaves on Dales Radio. Plus the chance to win a case of beer from Wensleydale Brewery for one lucky entrant.
There's loads of reasons why you might want to have a special song played on Dales Radio...Birthday, Anniversary, Wedding, or just to say hello to an old friend.
There might also be a very important reason for sending a hug. Many people in The Dales have been affected by the recent pandemic. Whether this has lead to loss, loneliness or isolation, a mention on the radio will be a welcomed boost, not least to know someone is thinking about them.
However you want to reach out, do it through Dales Radio!
You can choose a song and a dedication on the Sunday Takeover between noon and 2pm every Sunday afternoon, where we'll do our best to play the song you want to hear. If you'd like a special mention on a particular day - maybe its someone's birthday or anniversary? We can do it between 6am and 10pm any day - you choose the time and we'll do the rest!
Fill out the form below to submit a request for your family, friends, work colleagues... in fact anyone!
Don't forget to add in the SECRET PASSWORD on the poster and the name of the PUB you saw it, for your chance to win a case of Ale!
Let them know and listen out for your song!
Thanks for your interest and enjoy!
Wensleydale Brewery
Wensleydale Brewery is set in the heart of the Yorkshire Dales producing a wide range of real ales, with something to quench every thirst. The Brewery make beers as beautiful and as memorable as the landscape we live in.
Group Hug
Group Hug is run by volunteers, people like you and me, who want to help others out with an area they have real life experience in. Just look for a Group, see if its open and request a chat. All chats are private and confidential and you can chat about anything you like. The idea is to offload and get it off your chest.
Competition Terms and Conditions
1. You can send in as many requests as you like, but only one entry to the competition per person - we know this is going to be popular, so let's give everyone an equal chance. Entrants must me over 18 years at the time of entry.
2. Winner will be drawn at random after closing date and the winner will be notified by email.
3. Promoter's decison is final and no correspondence will be entered into.
4. Closing Date 31st August 2021. Promoter Dales Radio.