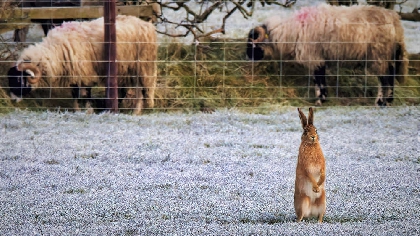 JANUARY Mik Cardus - Frosty Hare
Two organisations have worked in partnership to produce a decade of photo calendars that help to celebrate and support the people, landscape and wildlife of the Yorkshire Dales.
Fever Digital, a design, development and marketing agency based near Skipton, has provided their expert creative services over the last ten years to help local charity Yorkshire Dales Millennium Trust (YDMT) put together their annual charity calendar.
Profit made from sales of the thousands of copies sold every year have helped to support the charity's wide-ranging projects, from planting trees to helping vulnerable young people connect with nature.
Jonny Priestley, Creative Director at Fever Digital, said: "We are proud to be a long-standing supporter of YDMT and their important work. Over the years we've been involved in planting trees and helping with their website development, as well as providing our design services free of charge for the annual Yorkshire Dales calendar.
"The 2023 calendar is the tenth one that we've worked on together. The beautiful scenery of the Yorkshire Dales, captured through the seasons by talented photographers, makes for an eye-catching calendar. It's a pleasure to be involved each year, helping to bring a little glimpse of the Yorkshire Dales into homes across the country, whilst raising funds for YDMT to continue their inspiring projects."
Marketing Manager Lindsay Wallace added: "With its spectacular landscapes, unique wildlife and vibrant communities, the Yorkshire Dales is a place to be celebrated and protected. Our Yorkshire Dales calendar is the perfect way to do that, and many people support our work by buying a calendar for themselves or sending one as a present. We're very grateful to have such committed partners Fever Digital, who have helped to make this happen for the last ten years!"
The 2023 Yorkshire Dales calendar is available to buy now from www.ydmt.org/shop. A new photography competition will be launched in the new year to find photos for YDMT's next calendar. The competition will be run in partnership with The Garden Rooms at Tennants and photos will be exhibited there in the Spring.