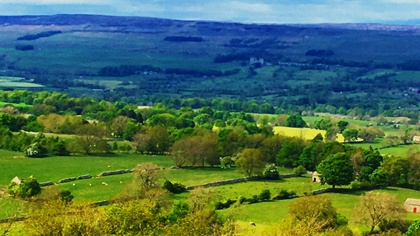 Richmondshire residents are invited to hear how they can combat the cost-of-living crisis through simple tips and by utilising the support of community organisations at an event in Wensleydale this Friday.
Helping Richmondshire Heat, Eat and Meet is being hosted by Richmondshire Climate Action Partnership (RiCAP) at Tennants in Leyburn on 1st July. The event is in response to sky-rocketing costs and will cover community support, energy, food and transport and travel.

Around 30 organisations will attend made up of businesses, charities and community groups and include: Home Start Richmondshire, Citizens Advice Bureau, Parenting Together, The Jonas Centre, Leyburn Arts & Community Centre, Colburn Community Support, Group Hug, York & North Yorkshire Growth Hub, Influence Church Food Bank, North Yorkshire County Council Stronger Communities Team, Energy Smart Group, GTec Hawes, Easby AV.
They will be on hand to advise attendees on how to save in these areas as well as gain a better understanding of grants and funding available if wanting to make the switch to renewable energy.

Each organisation will have a stall and there will also be some short talks followed by a Q&A plus demonstrations such as how to cook cheap and tasty meals.
Inflation currently stands at 9 per cent and is forecast to rise to 11 per cent later this year, while energy bills are set to take another hike this autumn, despite the price cap increase in April. Meanwhile, wages aren't expected to increase proportionately to cover these increases which why Mike Sparrow, deputy chair of RiCAP, feels it is crucial Richmondshire residents have all the support they need.

He explained: "At a time when energy and food costs are rising exponentially it is important that our community has visibility of, and access to, expertise that can help mitigate some of the cost-of-living pressure everyone is feeling. For some this may mean practical financial help, for others it could be finding ways to eat cheaper or getting advice on how to start growing your own food. Alternatively, community groups may want to learn more about how to set up a community garden or a renewable energy scheme. Whatever the need, it's clear that sharing knowledge and helping each other is going to become increasingly important.

"By bringing together a broad range of expertise we hope to provide residents with access to useful resources and raise the profile of local organisations that can provide people with help where needed. We hope as many people as possible will take advantage and come along to this extremely valuable and informative free admission event."
Helping Richmondshire Heat, Eat and Meet takes place at Tennants from 10am - 3pm on Friday 1st July. You can access the full list of organisations here. For those unable to attend, the talks will be live-streamed.