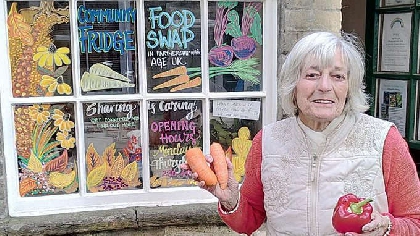 The Settle Community Fridge and Public Living Room has launched a crowd funder to help keep this values service going.

Settle's Community Fridge is a great way of reducing fruit and veg waste from local supermarkets but also allows local gardeners, residents and businesses to pass on surplus food they will not use. During covid the Fridge, based at the Hub in Commercial Courtyard, often acquired food from local pubs and restaurants due to unexpected lockdowns or large group cancellations. They also, sadly, received food donations as a result of local business closures.
They has now expanded the fridge to service the new Public Living Room at Settle Quakers, a new venture also set up by the group.
But now they are in desparate need of your help and they have launched a Crowd funder to grow the service. The good news is that your donation is matched by the Co-op's Warm Spaces Funding Boost.
The money raised will be used to buy extra food to supplement what they get donated at the Community Fridge and for ingredients to cook healthy meals at the Public Living Room.
They currently have some short term money to extend our Community Fridge opening hours and want to continue to offer three sessions a week.
They would also like to pay one of our staff members to do a few more hours a week talking to our visitors at the Public Living Room about energy saving, ensuring they are getting grants and benefits they are entitled to, as well as helping people switch to cheaper broadband and mobile phone tariffs.
"In a small community like ours there is a lot more need than many people think. This 'Bring What You Can, Take What You Need' ethos means it is much easier for people to engage with us without the stigma of a visiting a food bank", explains Jo Rhodes. "Our Public Living Room is open to anyone who wants to come along at Settle Quakers on Mondays and Thursdays every week from 10.30am to 1.30pm. We offer hot drinks and meals, our visitors can play card games or Connect 4, there is always a jigsaw to do, craft activities or help with cooking, but no pressure to do anything if people just want a chat and some company. A lot of what we do is about reducing isolation and offering opportunities to connect, learn and contribute in some way. Most of the people coming to our activities live alone, many are on a low income or benefits, several have long term physical and/or mental health issues."
"We have ended up with a lot of older visitors, especially since covid, including several who had lost loved ones and were finding it hard to access relevant support. We were the only local group who met in person throughout covid and so offered a safe supportive place for people who were struggling with the isolation and other problems. Over time it has been wonderful to see many new friendships form and see our visitors getting out and about again and enjoying life.
We have several folk coming in to do one-off or regular activities at our Public Living Rooms like Clare, who does hand massages which are extremely popular. Her oils have a very relaxing effect on Harold's dog Sam too!"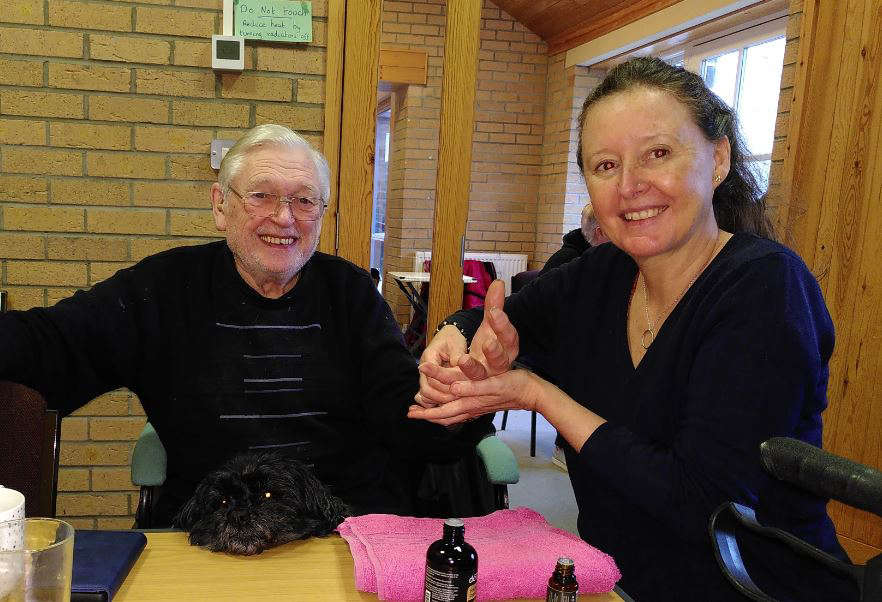 With the cost of living crisis and people buying more reduced price food in supermarkets, this means we are now collecting a lot less fresh fruit and veg donations than we were a year ago. As individuals are struggling, cash and food donations from local people have reduced too. "Many people just bring a tin of soup", says Jo, "some apples from their tree, a jar of jam or leftover food from when they stocked up for visitors.. but if they can't bring anything that is OK."
The group are having to buy a lot more basic food like potatoes, carrots, onions, oil, butter, cheese as well as tea and coffee to offer at the Community Fridge. They have been able to get some funding for this but it has disappeared quickly.
The problem is they are getting much busier at the same time as food costs are rising and our veg and cash donations have reduced. At some times of the year we get a lot of fresh fruit and veg from local allotments, however, in winter there is always very little of this, so we are currently having to buy a lot more than we have ever needed to before.
To donate go to the Crowdfunder website.
Settle Community and Business Hub was set up in 2016 and since then we have been running a range of events and activities from our offices in Commercial Courtyard, at Settle Quaker Meeting House and also online during covid. We work with local residents, charities, community groups and businesses.