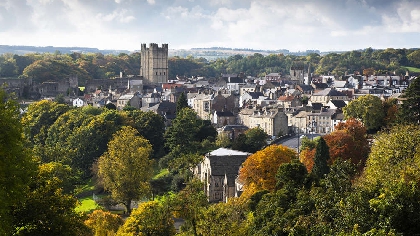 Local businesses are being offered training from Google after we joined forces with the Federation of Small Businesses (FSB) to bring the digital giant to Richmond.
The Google Digital Garage team is giving businesses the opportunity to take part in webinars and a face-to-face training session this month (November). Businesses in the Richmond area can attend all or some of the three remaining sessions, which are free of charge, but each session must be booked online in advance.
The training is being provided as part of the Richmond Animation Project, which has received £23,627 through the UK Shared Prosperity Fund, administered by the council. Watch the fourth session, delivered earlier this week.
The training sessions are:
Social Media Strategy, Wednesday, 16 November, 10am (webinar): Learn how to build a social media strategy into a business plan.
Create Videos with YouTube, Wednesday, 22 November, 10am (webinar): How to understand brand and target audience behaviours, write, storyboard and film engaging videos, market content to users, and measure success.
Business Support, Thursday, 30 November, 10am to 2pm, Kings Head Hotel, Richmond (face-to-face): Includes three Google Digital Garage topics and the opportunity to have a one-to-one with a Google Digital Garage trainer. The topics planned are getting started with online analytics, reaching your customers on YouTube and getting your business visible on Google.
Executive member for Open to Business, Cllr Derek Bastiman, said: "This is an excellent example of the way in which Shared Prosperity Fund money is being used to improve the economic prospects of small businesses in North Yorkshire.
"The high-quality training sessions will equip attendees with some of the practical skills they need to compete for customers in the digital marketplace and highlight the benefits a digital strategy can bring to their business."
Neil McNally, of Neil McNally Design, based in Richmond, who has participated in previous Google Digital Garage training, said: "The programme made me aware of tools provided by Google that can, and did, help me achieve the number one slot for my own business with a particular local search term.
"Being able to research trends and analyse your own keyword strategy was simpler than I thought and that was invaluable to me. Digital marketing can be a minefield, for most not knowing where to start. Believe me, this is the place to start!"
Future elements of the Richmond Animation Project include:
Building on the success of the Totally Locally Magic Tenner campaign (which ran in Richmond in October) with a place-led marketing campaign designed to reconnect the community with their high street/town.
Masterclasses in customer acquisition, setting social media objectives, marketing and sustainability (the 7 Ps of marketing) and social media trends.
UMi cost of living crisis bundle, which delivers an on-demand series of webinars designed to build resilience, reduce trading costs, minimise energy consumption, maximise income, prepare continuity plans, negotiate better deals, retain talent and anticipate business recovery.
Workshops for businesses to help them build their own business resilience workplan and leave with practical actions they can take about the challenges they face.