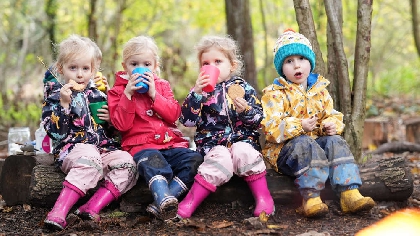 Youngsters at Treetops Forest School near Cawood in the Selby district get involved in fun activities, including toasting s'mores around the camp fire. The schools is one of a range of organisations taking part in the No
More than £135,000 has been invested in holiday clubs in North Yorkshire which will provide nutritious food and healthy, fun activities for school pupils over Christmas
The activities are open to all children and young people in the county, but are free for those receiving benefits-related free school meals during term-time. Every child attending will receive at least one hot meal or packed lunch each day.
The FEAST programme is run by North Yorkshire Together, a partnership between North Yorkshire Youth, North Yorkshire Sport and Rural Arts that supports residents to be happy and healthy. It is funded by the Department for Education's Holiday Activities and Food programme and is designed to tackle the additional pressures school holidays can place on family finances. It provides children with activities which improve their wellbeing and help them stay healthy, active and socially connected.
During the summer, approximately 12,000 children took part in the FEAST holiday programme, with a wide variety of activities from sports camps to forest camps and dance and drama workshops.
The Christmas programme includes circus skills, DJ workshops and healthy eating sessions at The Comrades Club in Richmond to King James High School's "Dopeamin programme" running in Knaresborough, which introduces young people how to take care of their wellbeing and develop a positive mind-set through fitness, nutrition and other techniques.
North Yorkshire County Council's leader, Cllr Carl Les, said: "We are delighted at the number of organisations who have come forward to provide a varied programme of holiday clubs and activities. The funding ensures children on free school meals receive at least one nutritious meal while they attend the activities.
"The holiday club programme has been running for just over two years in North Yorkshire and has quickly expanded to include a very varied selection of activities focusing on sports, arts and wellbeing right across the county."
One of those providing a Christmas holiday club is Siobhan Bamforth, of Treetops Forest School, who runs a school from Bishop Wood, a large Forestry Commission-owned site near Cawood, in the Selby district. There will be activities such as using forest tools to create a wooden winter wonderland fir tree, as well as carving snowmen decoration and creating robin decorations from felt.
Ms Bamforth said: "We will be welcoming every child with a hot breakfast pancake at every class and hot food around the campfire, such as pizza and sausages, as well as fruit and other cold foods.
"The main focus at Treetops Forest School is that there will be something for everyone's interests; we have a really experienced team and we always try and follow everyone's interest. Whether they want to cook, build a forest den, spend some time in a hammock or help build the camp fire, we'll help them to do that."
The county council's executive member for education and skills, Cllr Annabel Wilkinson, said: "North Yorkshire Together, commissioned by North Yorkshire County Council, have been able to bring together a wide variety of high quality activities from across the county.
"The holiday clubs will be providing children with nutritious food and a chance to socialise, learn new skills and develop their talents. We would like to thank all the organisations who have come forward to take part."
For more details of the holiday club programme, visit www.northyorkshiretogether.co.uk/feast
Details of other support available for families struggling with the cost of living crisis can be found at https://www.northyorks.gov.uk/cost-living-support