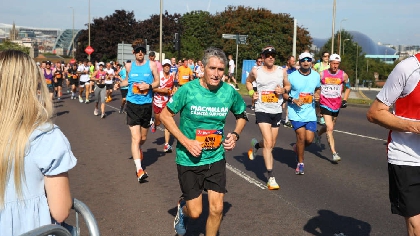 Accountant boss raises over four thousand pounds for Macmillan, as he completes in the Great North Run
Accountant Adam Dutton from Skipton Accountants, The Shepherd Partnership has always enjoyed running and on Sunday in Gateshead he achieved a milestone. Adam successfully completed the Great North Run; in an incredible time of 1hr 54mins, which Adam pointed out wasn't his best. But nonetheless, a huge achievement as he himself has gone through health issues recently.
Not only did the race go well, but Adam received the news that, thanks to all the generous donations from supporters, he's in the top 10 fundraisers for this year's event - that's not just for MacMillan, but for every fundraiser in the whole race!
At the time of writing, the total raised for MacMillan Cancer Support stands at £4,405. Well done Adam!