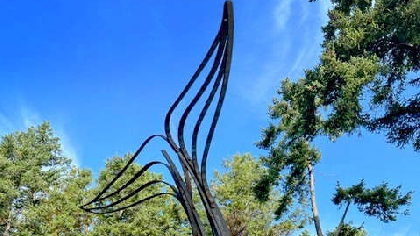 Award-winning sculptor Andrew Kay has delivered an unusual £22,000 Canadian export order to an island off British Columbia as demand for his artwork grows in North America. 
Kay, who specialises in creating unique life-size sculptures of wild animals and birds from welded lengths of steel, was commissioned by US property developer Rand Falbaum to create a five-metre-high sculpture of an orca's tail for the grounds of his holiday home on Hunter Island on Canada's pacific coast near Vancouver.
The 220kg sculpture has been shipped to Canada, on a six-week journey that passed through the Panama Canal and up the Pacific coast to Seattle, before being installed on the largely uninhabited Hunter Island which is in a maritime conservation area frequently visited by whale species, including orcas.
"Exports are a rapidly growing area of our business, now accounting for around 30% of our turnover, and especially in the US and Canada where we have seen a flurry of orders of late," said Andrew Kay.
"Creating the orca's tail for Mr Falbaum is a first, but after almost 30 years in business our work has travelled all over the world, particularly to a growing client base in the US."
Other recent North American orders include horse and stag installations in the Maine resort town of Kennebunkport and in the Hamptons on Long Island, New York, while a herd of deer, fox and leaping horse sculptures were installed at a property in Montreal.
"We also have sculptures in Singapore, several of our bulls have made their way to Spain, and earlier this year we delivered a pair of merino sheep to the grounds of a villa in the Basque Country," said Kay.
Based at a sculpture studio and foundry near Kirby Lonsdale that he established in 1994, and where he employs a team of six, Kay regularly receives public art commissions from bodies such as the National Trust and English Heritage. The studio's private clients include a string of well-known names including Sir Tom Stoppard, comedian John Bishop, and screenwriter and director Richard Curtis. Hospitality firm Daniel Thwaites and Scottish Widows are among Kay's corporate customers.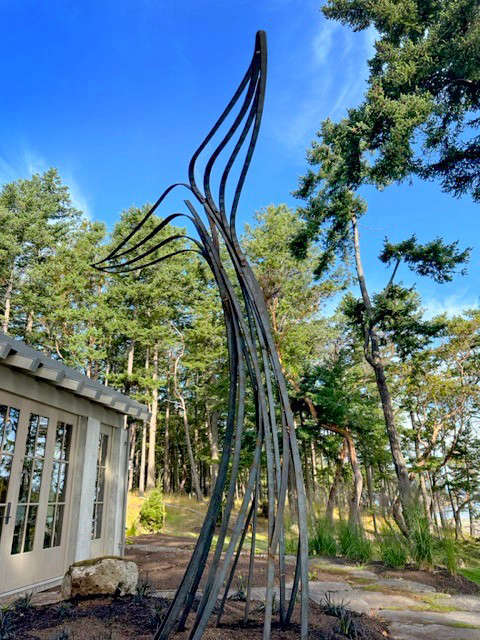 "Our sculptures are unique and embody a pure, clean Scandinavian design ethos that I gained when I travelled there on a design scholarship as a post-graduate," he said. "People are always surprised that an industrial material like steel can be used to create sculptures that capture the powerful anatomy and spirit of wild beasts so perfectly."
Kay's life-size sculptures begin with anatomical drawings and photographs which are used to produce a full-sized sketch. Usually starting from the animal's feet upwards, lengths of three-quarter-inch steel bar, cold-forged in a press to shape them, are used to reflect the drawing and the sculpture takes shape as the pieces are welded together.
"Shipping large sculptures can seem daunting but we now export so frequently that we're adept at the whole export process," said Kay. "It's exciting to see our work travel all over the world from being originated and created in our small studio, here in the wilds of Cumbria. We hope to be able to announce further international orders in the next few months."