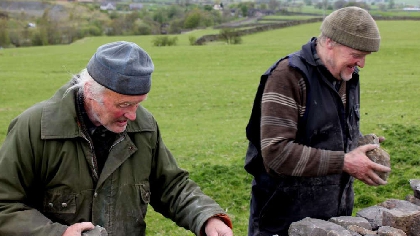 A portrait of Ingleborough revisited is the title of a new exhibition at the Gallery on the Green in Settle
The new exhibition at the Gallery on the Green in Settle, produced in conjunction with Yorkshire Dales Millennium Trust, gives locals and visitors a fresh chance to enjoy the much-praised collection of photographs featuring the people who live and work in the shadow of Ingleborough, perhaps the most imposing of Yorkshire's Three Peaks, both now and in years gone by.
In 2018, photographer Hilary Fenten, who has lived in Selside - a small hamlet almost at the head of Ribblesdale in the Yorkshire Dales National Park - for more than 25 years, photographed people who contribute to the character of the Ingleborough area. The collection aimed to capture a snapshot in time of the landscape's social history.
In this exhibition, some thirty or so of her contemporary photographs are laid out on one side of the gallery whilst opposite are a similar number of black and white historical photographs of people from the same area. Between them is a sheet explaining who is who in the prints and the background to the whole project.
The gallery, in Upper Settle, is housed in a former BT phone box and is believed to be the world's smallest art gallery.
The photographs were originally published in a book – A Portrait of Ingleborough. The project was part of Stories in Stone, a scheme of conservation and community projects concentrated on the Ingleborough area, which ran from 2016 to 2021 and was developed by the Ingleborough Dales Landscape Partnership, led by Yorkshire Dales Millennium Trust (YDMT), and supported by the National Lottery Heritage Fund.
The exhibition is now open and runs until 9 December.