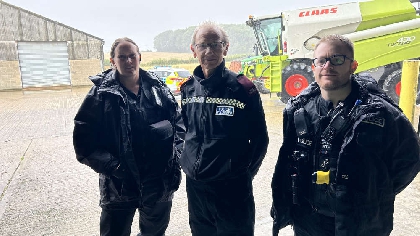 PCSO Caroline Saville, Steve Barker and PC Simon Barker, from North Yorkshire Police's Rural Task Force
North Yorkshire Police's Rural Task Force will spearhead a major clampdown on rural crime next week.
The intensive police activity is part of National Rural Crime Action Week, which aims to raise awareness of the impact of rural crime nationwide.
Rural crime is any criminal activity that predominantly impacts on rural communities and business, such as machinery and agricultural theft, livestock theft, livestock worrying and wildlife crime. It's also criminal activity that can take place anywhere, but requires a unique approach due to specific issues associated with rural communities, such as isolation or a lack of access to services.
A national survey found in 2022 that 97% of people in the UK believed rural crime was a "significant" issue in their community.
Inspector Mark Earnshaw, of North Yorkshire Police's Rural Task Force, said: "We aim to ensure the North Yorkshire countryside remains a hostile environment for criminals. That work involves intelligence-led operations and proactive patrols – but also building strong partnerships, including with Watch scheme volunteers, technology and security companies, rural businesses, and residents themselves.
"Policing our rural communities happens day-in, day-out, but Rural Crime Action Week is an opportunity to raise the profile of rural crime nationally, and send a clear message that it will not be tolerated in our area."
Throughout the week, which runs from 18 to 23 September 2023, officers and PCSOs from the Rural Task Force will attend auction marts in Craven, Northallerton and York to speak to farmers and other attendees. They will also be at the Stokesley Show and Nidderdale Show.
In addition to engaging with local communities, specialist police teams will also carry out proactive enforcement activity at undisclosed locations throughout the week, focusing particularly on tackling poaching, quad bike theft and rural burglary offences.
The Rural Task Force will also take to social media, sharing important crime prevention advice aimed specifically at rural residents and businesses.
National Rural Crime Action Week is run by the National Rural Crime Unit, a newly-formed team designed to help UK police forces share best practice, effective tactics and manage joint operations.