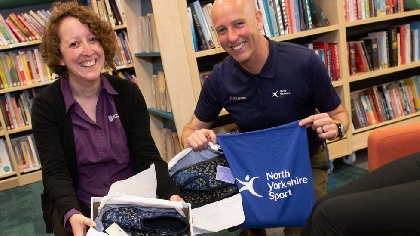 Library assistant Toria Morris and Simon Pierce, health and wellbeing manager at North Yorkshire Sport, prepare for one of last year's slipper socials.
Pick up a FREE pair of slippers in Settle this March, at an event aimed at helping to prevent falls by older people.
Slips, trips and falls by older people can affect their ability to live independently, so North Yorkshire library service is working with North Yorkshire Sport and other partners to host "slipper socials" to tackle this issue. For older people who may be mentally fit but physically frail, a fall can lead to a loss of independence. A common cause of falls by older people is loose, worn or backless slippers.
Library staff and volunteers are inviting older people to the new events where they can pick up a free pair of anti-slip slippers while chatting to organisations that provide support and advice. The free slippers have rubber soles and are wide fitting to make it easier for people with restricted mobility to get them on and off. They also have a Velcro fastener, so will not slip off.
The library service ran events at seven libraries last year, handing out 358 pairs of slippers. The social aspect was as well received as the free slippers, with many people staying for tea or coffee and to chat with each other and the organisations present.
The event will be at Settle library on Wednesday, March 22, from 2pm to 4 pm. Joining NY Sport will be Age UK, Settle and District U3A (the University of the Third Age), the fire and rescue service and Living Well to offer free support, advice and information. There will also be cost of living advice from the adult learning service's Multiply team.
At the same time as picking up a pair of slippers, people will be able to:
• Learn about or have a go at age-appropriate exercises, supervised by NY Sport.
• Collect a free Get Moving activity pack from NY Sport.
• Get advice on how to stay well and safe from other event partners.
• Find out about local social groups and clubs.
• Find out how the library can support health and well-being.
North Yorkshire County Council's executive member for libraries, Cllr Greg White, said: "Our slipper socials proved very popular last year, with both residents and the organisations that attended. As well as helping people to avoid falls, so reducing pressure on health and emergency services, the free events are a great way to find out about other valuable services and to pick up information and advice. Older people can drop in at any time during the event, when free refreshments will be available. If we run out of some sizes of slippers, we will do our best to get more and get them to people after the event."
There is also another event at Ripon Library on Friday, March 31, from 10am to noon. Joining NY Sport will be the Living Well team, trading standards officers, Age Friendly North Yorkshire, Carers Resource, Ripon Community House and Harrogate Easier Living Project. The fire and rescue service will also present a talk at 11am on the services they offer, including checking alarms, conducting safe and well checks and offering fire safety advice.
The health and wellbeing manager for NY Sport, Simon Pierce, said: "North Yorkshire Sport is pleased to support these events and promote the benefits of keeping physically active throughout life. We look forward to discussing and demonstrating how exercises and activities can be adapted to include everyone, and we will provide activity packs to help people to get started."