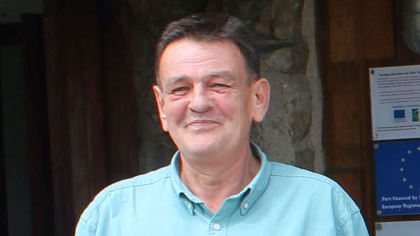 Cultura Trust has received a grant from the Peter Sowerby Foundation to  employ Stuart Parsons, Gayle Mill's 'animateur', for the coming year, and  thereby reach more people through the mill's social capital for learning  about the value of traditions to modern rural life.
Following a programme of work, including providing COVID-safe public access, Gayle Mill recently reopened to the public. Now Cultura can announce that the man at the heart of the mill has a secure future until the summer of 2022. Stuart Parsons has become the face of Gayle Mill – for visitors, volunteers and partners. The grant from the Peter Sowerby Foundation provides Stuart and the mill with the certainty
of knowing he can plan ahead and develop its capacity as a resource for learning and wellbeing. The grant covers the twelve months from August 2021 to July 2022.

Stuart described what the grant means: "Gayle Mill has come to mean a lot to me as it shares its stories and significance. It means different things to different people – for some it is about inspiring a career in almost-forgotten trades; for others, it stirs memories and helps them enjoy life. The
uncertainties of the pandemic have overshadowed our ability to look ahead beyond a few weeks, so the grant from the Peter Sowerby Foundation has provided timely support to be relevant through challenging times for all of us."

Graham Bell, Director of Cultura, added: "Gayle Mill has been at the forefront of technology and rural traditions for countless generations. But it's true worth is not just in what it was but what it is – in the true spirit of tradition, that it keeps being relevant to each successive generation. Stuart
has found his place with the mill as storyteller, broker, mentor and enabler. The grant directly supports Stuart but through him many others will benefit as we look forward to people being encouraged to experience, to try, to learn, to share."