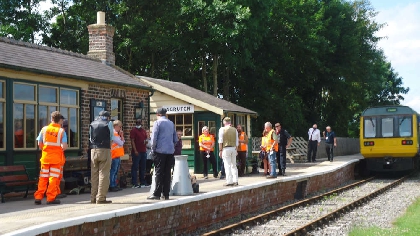 The Wensleydale Railway could be used by Network Rail for the training of off-track teams in safety, tree climbing and trials of fencing materials.
Dr Neil Strong, Network Rail's Biodiversity strategy manager said: "I spent a really good day with the Wensleydale Railway. The primary aim was to see what both organisations could take from each other in terms of biodiversity including training, volunteering and knowledge exchange. There is a massive opportunity to use the Wensleydale Railway for training going forward.

Chairman of the line, Guy Loveridge said: " Dr Strong and his team joined us for a trip up and down the line and experienced the heritage offer at both Leeming Bar station which has recently been restored using a Heritage Lottery Money and at Scruton station which has been fully restored as a First World War themed location."

He added: " Following a sandwich lunch at Platform One at Bedale station the group walked the line Westwards to witness first-hand the impact of biodiversity, with specific focus on Ash dieback and line vegetation control."

Ally Howard, Network rail Auditor, said: " "The volunteers are amazing, and I'm so impressed with what's been done to restore that level of history so accurately".

Guy Loveridge said: " We look forward to working ever more closely with our 'landlords', and friends at Network Rail.