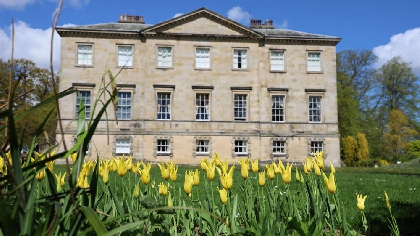 The Tulip Festival is a very special jubilee celebration - 25 years of the relationship with Bloms Bulbs and Constable Burton Hall and Gardens.
The Tulip Festival will be running over Saturday 30 April to Monday 2 May from 10am to 5pm daily. With over 6000 tulips of over 100 different varieties planted amongst the formal and woodland gardens, this is the most spectacular time to visit Constable Burton Hall Gardens.
As the northern show garden for Bloms Bulbs, winner of 68 Chelsea Gold Medals, we will be showcasing their incredible collection of flowers – a vibrant mix of classic favourites and exciting new varieties! This year we have collaborated again with local garden designer Willa Bourne-Arton to create new combination planting throughout the borders which hope to inspire garden enthusiasts.
Away from the tulips there are beautiful woodland walks and garden trails to discover featuring cyclamen, lilies, ferns, hardy shrubs, roses and wildflowers.
Refreshments are also on sale during the event in the Festival Lawn Marquees pop up - as ever there will be a delicious selection of cakes, sweet treats and light lunches to tempt you!
TULIP FESTIVAL INFORMATION
Constable Burton Hall Gardens, Constable Burton, Leyburn, North Yorkshire, DL8 5LJ
Saturday 30 April, Sunday 1 and Monday 2 May 2022, 10am – 5pm
Visitors are advised to pre- book tickets. Online booking – www.constableburton.com
• Accessible toilets are available on site.
• Dogs are admitted on leads.
• Free parking is available on site in an adjacent field.