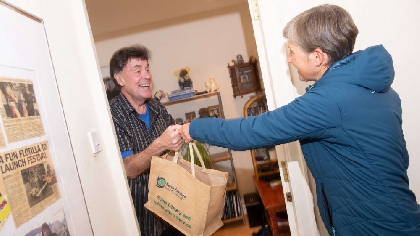 A home library service in North Yorkshire has cemented itself as a vital lifeline for many residents who struggle to visit their local branch including popular ghost walk personality.
The service began to flourish during the coronavirus pandemic when libraries were forced to shut their doors. The highest monthly total was recorded in March 2021 when 1,065 households were receiving regular deliveries.
Although the county's libraries resumed a full-service last year, staff and volunteers have continued to go the extra mile for vulnerable and hard-to-reach residents.
The service operates in both urban and rural areas, with both county council-run and community-managed libraries involved. In towns, the services are centralised for convenience but in rural communities they operate from local branches, with regular drop-offs and collections.
Former musician and concert promoter Malcolm Hanson has been a regular visitor to Skipton library after he moved to the area over 20 years ago. Since his arrival, he has become a well-known figure in the community as a tour guide.
Mr Hanson said: "Though I was experienced in entertaining an audience, I had, however, no knowledge of local history. That's where the library stepped in.
"For weeks I haunted the reference library upstairs. Anything and everything I needed to know was there. Soon I was taking tourists round the town as if I had lived there all my life and when I was researching for books on local history, I used the reference room as my classroom."
Over the last few years Mr Hanson's health has deteriorated and he is currently recovering from a stroke which left him housebound. He was unable to read for a time, but his passion for books inspired him to regain the ability and aided his recovery; all with the help of the home library service.
"When my plight reached the ears of the Skipton library staff, they got in touch and offered me the home library service and we have never looked back," said Mr Hanson. "These days I have improved enough to visit the library but I still rely on the service most of the time. Without it I would not have recovered so well.
"I cannot praise the service enough and would recommend it to everyone who is housebound. The staff are always friendly and full of kind words. They will strive to help you to find those books you cannot get for yourself. It's an amazing service so please try it." Mr Hanson is excited to be restarting his ghost tours in May, with tickets for his first walk selling out within an hour and a half.
As part of the home library service, volunteers contact users about their reading interests before arranging a regular delivery, normally once a fortnight. They can also request certain books, authors, and different formats such as large print or audio books.
North Yorkshire County Council's Libraries Manager Chrys Mellor said: "The popularity of the home library service represents one of the biggest success stories of recent years. With the hard work of staff and volunteers we managed to keep the county reading during lockdown.
"Many residents have said the service was a lifeline during those hard times and it has made us realise that there are isolated readers out there who still rely on it to fulfil their reading needs. We are grateful to the dedicated staff and volunteers who make this service possible. We will continue to operate the delivery service for anybody who needs it."
Anybody can access free resources including e-books, e-audio books, newspapers and magazines by visiting www.northyorks.gov.uk/digital-library
To find out more about receiving the service or becoming a volunteer either contact your local library, call 01609 533800 or email libraries@northyorks.gov.uk