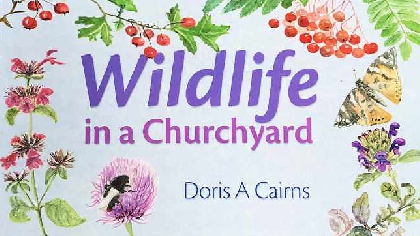 A new book which delves into the wealth of wildlife in St Alkelda's churchyard in Giggleswick is now available from Yorkshire Dales Millennium Trust.
Featuring delightful photos and watercolour pictures from local expert Doris Cairns, Wildlife in a Churchyard - perfect for beginners to natural history - pays homage to the variety of wildflowers, grasses, mosses, lichens, ferns, trees, fungi and animal life that can be found in a rural churchyard.
The project is part of Stories in Stone, a scheme of conservation and community projects concentrated on the Ingleborough area. The scheme was developed by the Ingleborough Dales Landscape Partnership, led by Yorkshire Dales Millennium Trust (YDMT), and supported by the National Lottery Heritage Fund.
It also features guest pages on birds and wild animals by pupils from Giggleswick Primary School, moths by Cynthia Hardyman and wildflower meadows by YDMT.
Doris, pictured, a retired teacher and keen member of Craven Conservation Group, said: "The initial request for a book about wildlife in St Alkelda's churchyard came at Robert Starling's funeral in November 2017. Robert was a botanist, well known for his expert knowledge of the local flora and many people interested in wildlife and conservation were there.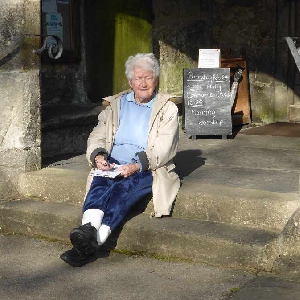 "I was approached by Margaret Fox, a St Alkelda's parishioner, waving a copy of my first book, Wildflowers of the Churchyard, which was about the churchyards of Ingleton and Chapel le Dale. She asked me if they could have a similar one and I agreed. Then began three years of searching, identifying, recording and illustrating!
"It was time-consuming work, but never tedious, as I aimed to search out every wildflower and as much animal life as can be found bounded by the drystone walls of the churchyard. This book is for those who enjoy the great outdoors and want to know something about the flowers and animals they see along the way."
Debbie Boswell, YDMT's Project Officer, added: "It is easy to think of a churchyard as merely a piece of land surrounding a church, but these sacred spaces are places where wildlife can flourish.
"It has been a pleasure to be able to support the creation of this book, written and illustrated so beautifully by Doris, which sensitively highlights how through positive management and education churchyards can have such a valuable role in local biodiversity."
The book costs £12.50 (including £2.50 postage) and is available from ydmt.org or by calling 015242 51002.