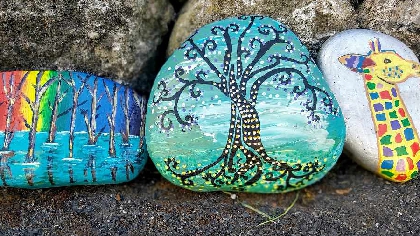 Three children's groups are to benefit from a book celebrating the 400-plus hand-painted stones created by children and young people in Settle and Giggleswick during the coronavirus lockdown.
Settle Scouts, Settle Rainbows and Brownies and the Courthouse Kids Theatre Group will share £3,000 from the Settle Stones project.
The 36-page book, collated by Mike Harding, features colourful photos of some of the stones which were left around the town to give people a boost during the Coronavirus pandemic.
It was funded by Stories in Stone, a programme of community and heritage projects developed by the Ingleborough Dales Landscape Partnership, which was led by Clapham-based charity Yorkshire Dales Millennium Trust (YDMT) and mainly funded by the National Lottery Heritage Fund, thanks to National Lottery players.
Mike said: "As I walked the Riverside Path most days and saw the painted pebbles increasing, almost as though they were breeding, I saw them for what they were: an outpouring of communal hope and kindness that arose spontaneously amongst the people of Settle and Giggleswick.
"I began to document this living proof that there is such a thing as Society and, as the collection of pictures grew, it seemed only natural that we should try and put them on public record. Stories in Stone and YDMT made this possible. It is also wonderful to know that the monies raised have gone to the kids of Settle and Giggleswick, in a small way this may help to lift the community spirit even more."
Don Gamble, YDMT's Programmes Manager, said: "When Mike asked about the possibility of funding for the book I jumped at the chance. The painted stones were brilliant and it was such a great idea to document them and support local young people at the same time."
Cherry Flitcroft, Chairperson, 1st Castleberg (Settle) Scout Group, added: "This is a fantastic gift to our Scout Group. It was very unexpected and gladly received.
"The donation will be used in a way that will directly benefit the children who are members of Settle Scouts and in particular those who have been financially affected by the COVID-19 pandemic with their membership and activity expenses."
Settle Pebbles was designed free of charge by Mike's friend, designer and photographer, Bryan Ledgard, and printed by Settle business, iPrint.
Copies can be ordered online from www.visitsettle.co.uk and can be bought from Wholesome Bee in Settle, Cross Leigh Stores in Austwick, and Clapham Village Store.