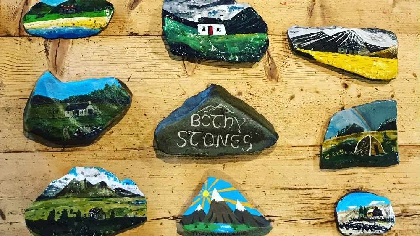 The new exhibition at Gallery on the Green in Settle, which opens on 13 April and runs until 14 June, feature paintings of bothies - or mountain huts - by Horton-based artist Alex Pilkington. Appropriately enough for works featuring stone buildings, all the pieces in the exhibition have been painted on pebbles
Alex Pilkington is a regular visitor to bothies in the UK and across Europe. He has also recently become a maintenance organiser for Greensykes Bothy in South Scotland.
Here Alex tells the story of the bothies and the stones: "Not everyone is familiar with the word 'Bothy', so as a simple explanation... It is a mountain shelter that is open for people to stop over for a night, or take refuge in poor weather, or just visit for a picnic or lunch. There is much more to the bothy than this as they are all individual and have rich histories, both from the peasant farmers and shepherds that use to live in them with their families generations ago, to the mountaineers that have used them on epic and pioneering winter climbs. They are a wonderful asset to have in the UK's wilderness areas and a night in one can enhance any visit to the mountains, as well as providing the chance to have a great social encounter with other like-minded mountain visitors that you may never have met before, nor meet again - but often the memories and stories told will never be forgotten.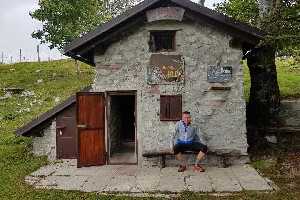 "I have been visiting the bothies for a number of years using my mountain bike to bike-pack between them, sometimes doing 3-4 day trips, or sometimes just a night, sometimes with friends, sometimes with family and quite often just on my own. During the coronavirus lockdown the bothy pebble painting became a good escape for me and I found it very therapeutic. I have created some 30 images on a range of stones, most from my own photographs of bothies that I have visited. There is a wide range of landscapes from sunny coastal vistas to winter mountainscapes, some under the crisp night sky, similarly the stones are all varied and provide a nice medium to paint on."
Alex Pilkington – Horton- in-Ribblesdale The Bothy Stones are for sale at £25 each. A £5 donation will be made to the Mountain Bothies Association - www.mountainbothies.org.uk
Gallery on the Green is housed in a former BT telephone box in upper Settle and is believed to be the world's smallest art gallery.